Jordan Peele is arguably the most successful new director of the last 5 years. He came out of the gate hot with Get Out, a refreshing new take in the "elevated horror" genre. Get Out was a big financial success and won Peele the Best Original Screenplay at the Academy Awards (not bad for your first film eh?). He followed that up with 2019's Us, another success, albeit not as beloved as his first film (I for one enjoy it a lot). Does Peele pull off the hat trick with his latest release, Nope? I'd say the answer is a "Yup".
Let's Get Elevated
Peele's first 2 films have been meticulously studied and written about for their allegories and themes on race & human nature through the constructs of the horror genre. There's some of that in here, but I would say for the most part, Peele sidelines telling those messages in favor of delivering a summer event film. The opening of the movie actually starts with a B Plot you'll get to see play out throughout, which ultimately has very little to do with the overall tale; but the scenes from that portion have stuck with me the most since exiting the theatre. You also get a Bible verse quote at the start that will result in many op-ed's for years to come with how the rest of the film transpires.
As I previously stated though, if you're into deep diving those messages, there's plenty of material for you here. For everyone else, this is just an enjoyable time at the movies that you don't need to think about as much as you'd expect. The plot is lean and it helps the movie sail through til the end off pure vibes and stellar filmmaking. The central story revolves around the Haywood siblings who recently inherited their fathers Hollywood horse ranch, training horses for scenes in movies. Along with their fathers unexplainable death, they witness Alien like UFO activity on their ranch. The Plan? Be the first people in history to capture a UFO on film in clear sight.
Family Ties
Nope reunites Peele with his De Niro, Daniel Kaluuya. A recent Oscar winner himself, Kaluuya plays a much more subdued performance here as O.J. Haywood, a man of few words still internally grappling with the death of his father. In this film he acts more as a vessel for the audience, trying to blend in with the background and rationalize what's going on. Keke Palmer makes a star making turn as his sister Emerald. Palmer steals every scene she's in oozing with charm, humor, and relatability. Her performance with this film, coupled with her stellar job on the press tour, is going to result in her becoming the next big thing. Mark my words!
Rounding out the main cast is Steven Yeun who plays Ricky, a former child star and local proprietor of a western amusement park. Ricky is in a similar boat as the Haywood's and their paths cross to drive the story in exciting new directions. Ricky is also the central character to the haunting B Plot story I mentioned at the start of this article. His characters arc is the most fascinating of all to me, despite him being 3rd on the billing.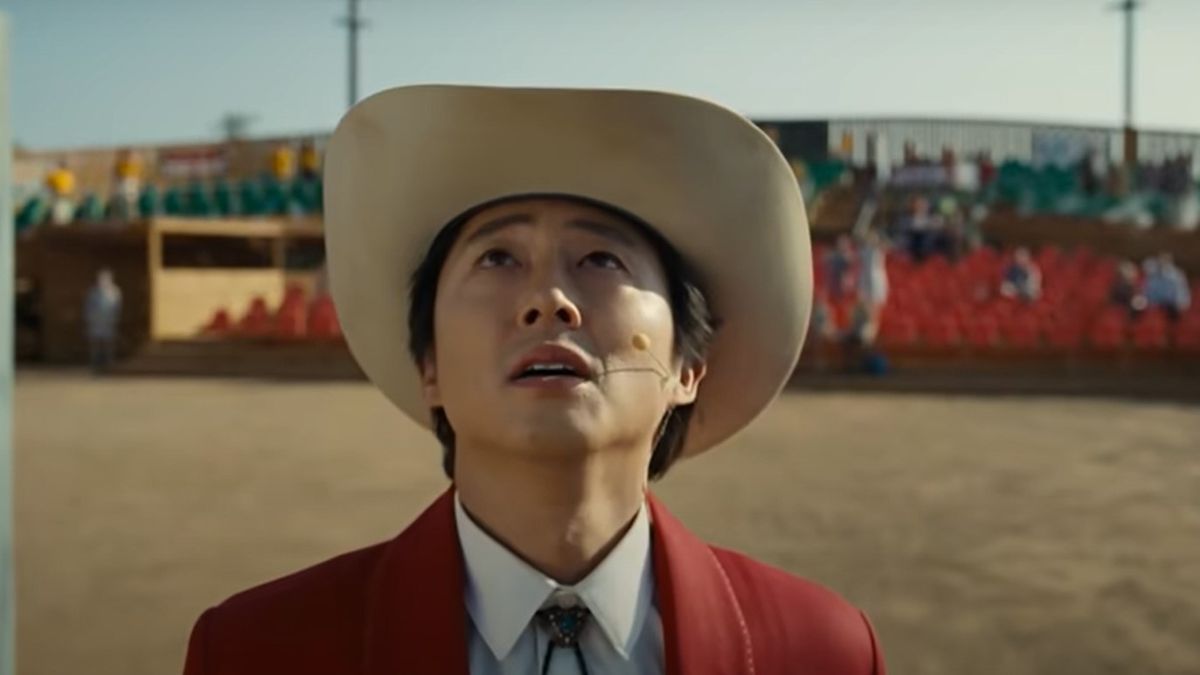 Step Into The Twilight Zone
Peele nabbed one of the best DP's in the business to man the camera in Hoyte Van Hoytema. Hoyte is best known as Christopher Nolan's cinematographer and he makes a lot with very little in this film. The movie primarily takes place with exteriors out in the desert. As a native Arizonan, I'm not enthralled at the imagery of this ecosystem, but damn if this movie is not pretty as hell. Sweeping camera movements and just an all around extremely well crafted flick from every department.
This was marketed as a horror/sci fi film which I would say is false. Some left the theatre disappointed going in with those expectations. I for one did not feel tense at any moment throughout the experience, which is not necessarily a knock. Peele himself calls Nope his "Great American UFO film", but I personally would best describe it as a monster movie. What's better than a monster movie with a drought of summer releases at the box office?
My overall feelings on the movie have already changed as I've given myself a couple hours to ponder before writing. My initial gut reaction was: "That was a pretty good time at the movies. I think I'd rank it 3rd for me from Peele's films." Stewing with it in my thoughts, it may have actually moved up already. For now, I'm going to play it safe and give Nope 7.5 wacky waving inflatable tube man's out of 10. I reserve the right to update this score later upon further reflection.