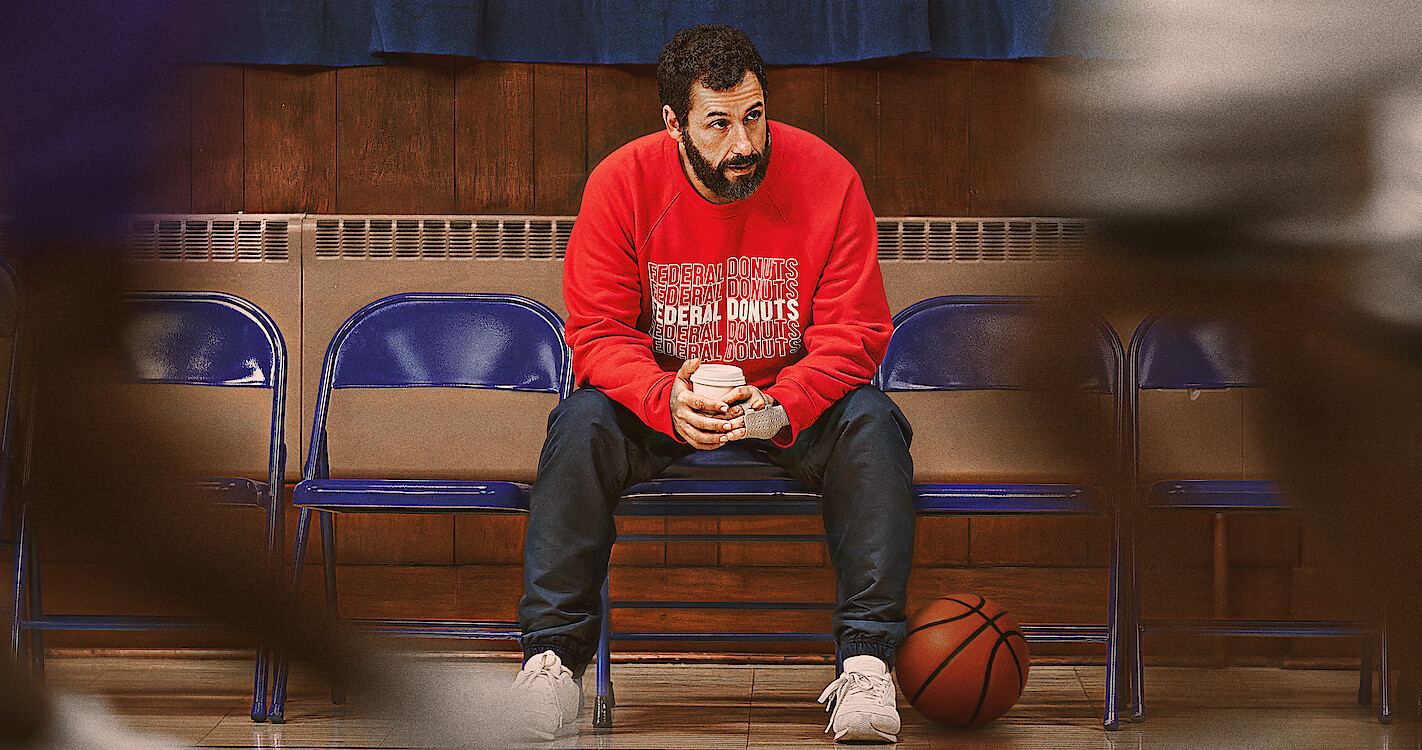 In late 2019 Adam Sandler teamed up with the Safdie Brothers to make the greatest film in his filmography (in my opinion), Uncut Gems. I'm happy to say that the Sandman is back with another drama that heavily involves my other great love outside of film, the NBA. No, Howard is not resurrected to keep on winning in Uncut Gems 2: Blood Diamond. This time the gambling and violence are turned way down and the involvement of the NBA is turned up to 11.
Hustle is the next entry in Happy Madison and Netflix's continued partnership to distribute the films of Sandler's production company that star him. The difference between this movie and his other Netflix submissions is it drops all sense of attempted comedy for another chance at Sandler playing a serious and meaningful role. I've always been a sucker for comedians making the jump to dramatic parts and Sandler in particular has always excelled at it. Despite his copious amounts of hit comedies, Punch Drunk Love, Funny People, and the aforementioned Uncut Gems are some of the hi-light performances of his career.
Adam plays Stanley Sugerman, head scout of the Philadelphia 76ers. Stanley has spent the better part of 30 years flying all over the world to watch prospective NBA talents play. His promotion to Assistant Coach of the Sixers is short lived after the team owner passes away and his sadistic son ignores Stanley and drafts a bust. The new owner puts Stanley back on the scouting beat, telling him if he finds a unicorn to improve the team, he'll give him the Assistant Coaching job back. From there, he flies to Spain and finds that diamond in the rough he needs to get his career back.
The Problem
As I mentioned in the opening, the NBA is a huge part of my life; I'm an absolute obsessive, especially for my beloved Phoenix Suns (yes it still hurts). The most disappointing part of being a diehard cinephile and NBA fanatic is that there are very few great, or even notable, basketball movies. White Men Can't Jump is still the holy grail of the genre, but outside of that, there's some passable but forgettable films and a lot of really bad ones (looking at you Space Jam franchise).
My belief for why this is boils down to the fact that basketball is an extremely difficult sport to believably fake being good at. For starters pro basketball players are behemoths that, depending on position, range between 6'5″ to 7'2″ in height. You cannot fake the handles, the dribbles, the passes, and shot formation. Unlike every other sport (minus soccer), you can't hide stunt doubles behind gear, hats, padding, etc. It has to be the actor and they must fit the skill and physicality that is a requirement to the game of professional basketball.
So how did the filmmakers and Netflix combat this issue? Easy, they decided "We're making a movie about the ins and outs of the NBA, let's just cast real NBA players in all the roles." The result is instantly recognizable as this is the most authentic and exciting basketball action I have ever seen in a feature film (apologies to Michael Jordan and the Looney Tunes). The angles are perfect, we see true shot blocking at the rim, deep dribble exercises, everything you expect to see as a fan is translated perfectly to the world of film.
I could write 10 pages on the NBA players from the past and present included in this film, either as themselves or characters made for the movie, and each one brought me joy; instead, I will focus on the main players. Juancho Hernangomez plays Bo Cruz, the golden ticket prospect Sugerman discovers on the streets of Spain. Bo is a hustler, playing street ball in public parks for money. He's a construction worker by day and plays ball in his ratty Timberland's at night. Stanley pursues him and discovers he's a single father living with his Mother, along with a lot of emotional baggage. After they discover what a minimum contract in the NBA pays, they agree that Bo will travel to America and train with Stanley for the draft.
It must be mentioned that Juancho Hernangomez is not a good NBA player by league standards. He's a 3rd string journeyman that has bounced around various teams fighting to make a roster. This is likely how he was able to star in a feature film despite the rigorous schedule required of pro ball players. The thing about players in his talent level is that they may appear to be bad at the game in comparison to everyone else out there on the NBA court, but these people are still in the top 400 best in the world at something. So with that in mind, if they're not playing a real life game at the highest level of competition, these players actually have an immense amount of talent. Despite not being on the same caliber as even most of his costars in this film, Juancho looks like Kevin Durant out there on the courts in this movie. I imagine we'll begin to see a lot more movies based around basketball now that we've seen this approach work so well.
Kenny Smith plays Leon, Stanley's college teammate and best friend who is also an executive for the Sixers. Kenny is actually quite good at acting in this movie, but I must say it's jarring whenever they cut to the TNT crew and he isn't there. Anthony Edwards, one of the most talented and charming young talents in the NBA, makes a glorious heel turn as Bo's main draft rival Kermit Wilts (yes you read that correctly). Please get this man more acting roles. There are just so many notable cameos, anyone that's an NBA fan will find faces to make you smile in this feature.
What's the Hustle?
Queen Latifah plays Stanley's wife and mother to their child, a young filmmaker in the making. Their energy and chemistry as a couple/parents is palpable and I found it to be a pleasant surprise. I only say that because I've known who Queen Latifah is for about 25 years and I don't think I've ever seen her cast as a romantic counterpart. She really excels here and I want to see more of it. Robert Duvall, who I can confirm is still alive in the real world, plays the Sixers owner who promotes Stanley and conveniently bites the dust right after. Ben Foster, one of my favorite character actors of the 21st century, plays the jerk face son who takes over the Sixers. As always Foster is delightfully evil, this time with a freshly bald head. As a result, this movie has convinced me he would be the perfect Lex Luthor. Make it happen Warner Bros!
The plot points that transpire throughout the film are fairly predicable but I'm not saying that as a knock. You get the necessary sports film emotional beats and almost all of them land really well, particularly the ones delivered from Sandler as someone who could have had it many times but fate had other plans. Along with more basketball movies, I'm begging for Sandler to continue this trajectory of consistently putting out dramatic turns. It's something that he's vastly more talented at in this point of his career.
The Verdict
Despite the story being pretty by-the-book, the movie excels in progressing how dramatic basketball stories can be told on screen visually. I'll take that as a win. I give it 7 wads of cash on the blacktop out of 10.