After 2 years of struggling at the box office trying to navigate the waters of the pandemic, 2022 has seen the resurrection of cinema in a big way. People are tired of sitting at home and finally feel safe to sit in the dark once more with an audience, transporting to places they haven't seen before. Outside of peoples comfort, a huge driver for this is simply the quality of pictures being released by studios in 2022. So before we start the 2nd half of what's shaping up to be an excellent year in the realm of movies, let's countdown the best releases up to this midway point.
Honorable Mentions:
Doctor Strange in the Multiverse of Madness
The Lost City
The Tinder Swindler
10) Chip 'n Dale: Rescue Rangers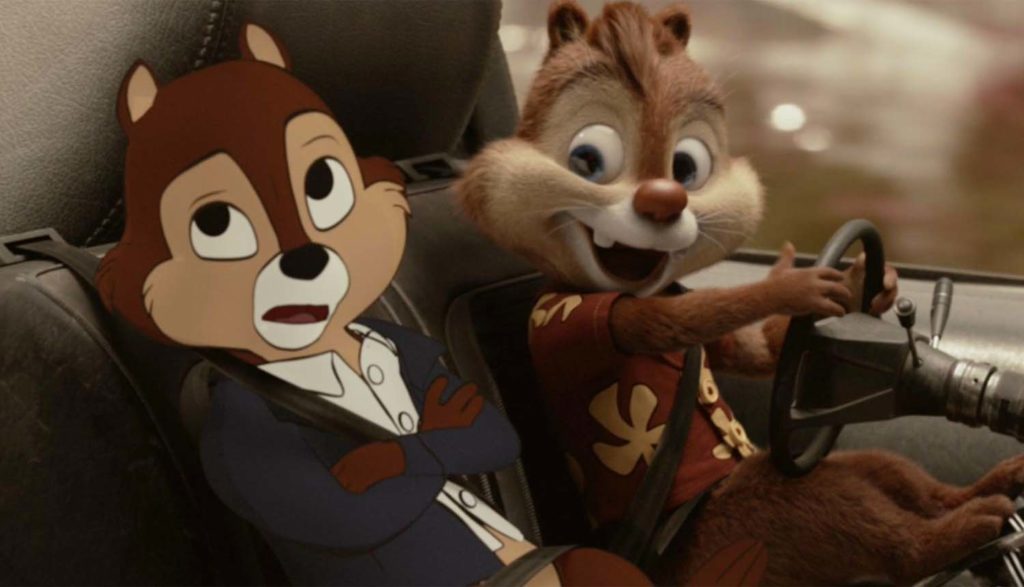 I did not have direct to Disney+ meta legacy sequel to a Saturday morning cartoon film on my bingo card for movies I would love the hell out of in 2022, but here we are. This is a massive love letter to the world of animation that blends several different styles and makes one of the most visually pleasing experiences of the year. As someone who lives for nostalgia, this movie is chalked full of hilarious references that most of the children watching it at home will not understand (curious to see how the kids like it). Directed by Akiva Schaffer of The Lonely Island fame, there's plenty of fun for all ages with this this one but it will especially bring joy to those who identify as "90s kids".
9) The Black Phone
This is an extremely tight horror/thriller from Scott Derrickson that would have had a much bigger impact on me had it not been for the spoiler abundant marketing the studio chose to promote the film with. Ethan Hawke puts in a disturbing performance playing a villain for the first time in his 30+ year career in Hollywood. Stunningly he's out shown a bit by a couple of highly talented child actors. Read my full review here.
8) The Unbearable Weight of Massive Talent
I am a die hard Nicolas Cage fan, so when it was announced years ago there was a blacklist script for movie where Cage plays himself in a spy caper, my excitement levels were through the roof. It's a been a barren time for comedies and I'm happy to say this movie delivers highly on the laughs, even if you're not a Cage aficionado. The biggest surprise here is how much heart the movie holds, and in a movie about Cage, Pedro Pascal steals every scene (continuing his reign of taking over the industry). I had the pleasure of seeing this movie at the Alamo Drafthouse in the lower Manhattan Financial District, and that was a cinematic experience I will treasure for life.
7) The Northman
Robert Eggers (The Witch, The Lighthouse) continues his mission challenging audiences through uncomfortable experiences that will make you think; this time with a HUGE budget. Framed as a revenge film based in Norse Viking times, the movie is filmed with brutality and strangeness, which are characteristics we expect from an Eggers release. What I love about The Northman though is that it's "the most historically accurate viking tale" that ultimately subverts expectations. The overall themes and messages completely tackle the concepts of male masculinity and their perceptions compared to those of the women they brutalize in many forms.
6) Hustle
Outside of film, my other biggest passion in life is the NBA. Where the struggle comes; there's been very few good movies centered around basketball. The main reason for that is because basketball is the hardest sport to "fake" on camera: you need actors who can hoop. Adam Sandler and crew figured out the best way to combat this issue by just making a movie that is entirely cast with NBA stars. Sandler plays a talent scout whose big discovery overseas will change both of their lives forever. Not only is it a great basketball movie, it's an incredible representation of the NBA organization too, transporting the audience to a world we've never seen this close before. You can read my full review here.
5) Men
Men is a psychological horror film from the incomparable mind of Alex Garland which has lived rent free in my mind upon its release, for better or worse. In the aftermath of a traumatic incident, a woman rents out a beautiful cottage in the English country side. As she deals through her internal anger and grief, she finds this town is entirely filled with men; all with the exact same face (all the men are played by Rory Kinnear in this film). As she spends more time in the town, the men continuously attempt to project guilt and doubt onto her as she battles through grief and questioning her own sanity.
If you have not seen this film or previously had any interest in it, DO NOT check it out on account of its ranking on my list. This is an extremely challenging experience with some of the most grotesque and disturbing images I have ever witnessed on film. The climax of this movie is something I will never be able to scrub away from my mind. It's hard to articulate if I enjoy the movie or not, but it's an experience I have not stopped thinking about since the credits rolled. For that, I rank it pretty high on this first half of the year lis.
4) Jackass Forever
#1 and #2 on this list (which you'll see shortly) have so far been the movies that audiences experience the most emotional impact with so far this year. The theme for the year is reviving the cinematic experience, and to me, Jackass Forever did one of the best jobs carrying that torch. This was the emotional experience I needed in a theatre. There is no greater feeling than sitting in a packed theatre with people laughing their god damn asses off while also living in terror, disgust, wonder, with the possibility for tears of joy. Nostalgia and legacy sequels are all the rage, but who would have thought Jackass would make one of the best ones? This movie honors the suicidal heroes we've watched destroy their bodies for our pleasure the last 20+ years while bringing in an excited new bunch of characters to revitalize the franchise. You'd be hard-pressed to have more fun at the movies this year than with this film.
3) The Batman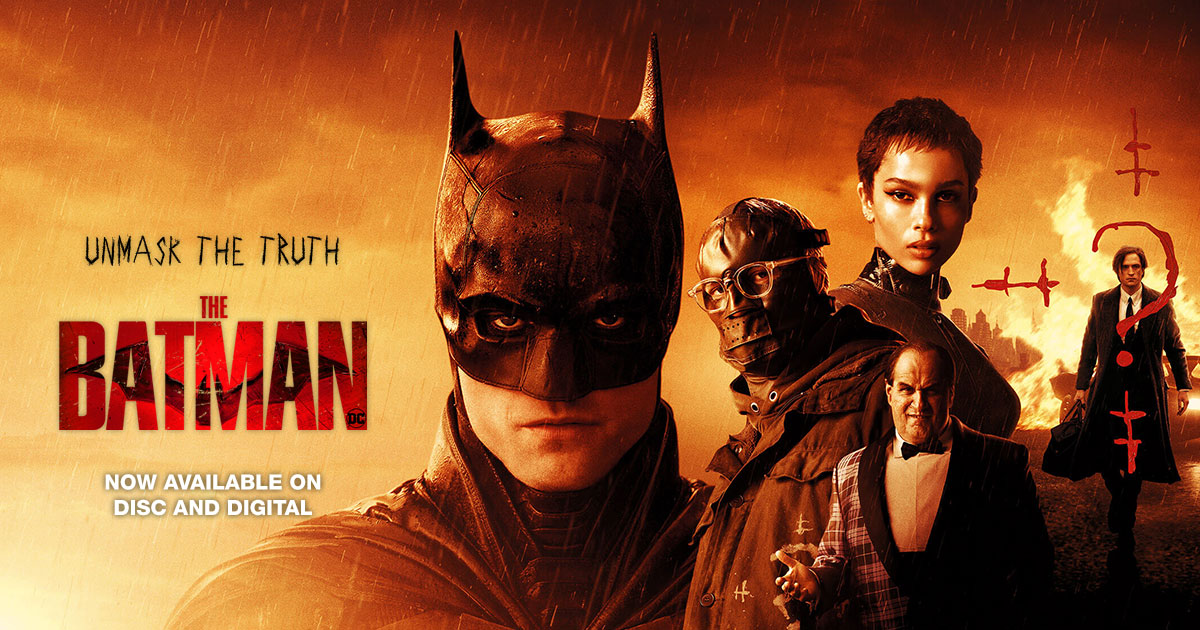 Here's my hot take: The Batman is the best Batman movie ever made. There, I said it. Take it in. Breatheeeee. Are you good? I am a life long Batman fanatic and this film has given me everything I have ever wanted for the character in a live action setting. According to the DC Comics Encyclopedia, Batman's super power is "he's the worlds greatest detective". Yet it has taken 30+ years of live action films to finally get an entry showing the caped crusader AS A DETECTIVE. Matt Reeves brilliantly lifts from the style of David Fincher to tell a sprawling, slow burn, murder mystery in the seedy underbelly of Gotham City.
The cinematography and score are the best I've seen in years for a major studio picture. The whole cast is perfect for their roles, but Robert Pattinson continues his reign as one of the best working actors of the last decade. In a daring move that fulfills another pipe dream of mine, Pattinson spends roughly 93% of the film behind the cowl. I've watched this movie 3 times already this year (twice in theatres, once on HBO) and that's 9 hours of my life. I don't want any of those hours back and I expect there will be at least one more watch for me before the year ends. That's how much I dig this film. MORE PLEASE!
2) Top Gun: Maverick
Tom Cruise made it his personal mission to save movie theatres after the disastrous impact the pandemic had on their future. The result is the biggest hit of Cruise's illustrious career, with over a billion dollars made so far worldwide, and still crushing at the box office 5 weeks after its release. For a film that doesn't include any spandex or super human powers, this is an anomaly. Mission accomplished? This is the perfect summer blockbuster for audiences of all ages, and a legacy sequel that does not require knowledge or nostalgia for the original to have a thrilling time. Read my full review here.
1) Everything Everywhere All at Once
Has there ever been a more fitting title to a movie? You truly get EVERYTHING you could possibly imagine; transversing genres and worlds through infinite possibilities across the multiverse. This is a masterpiece crafted from the insane minds of Daniels, the directing duo best known for Swiss Army Man (the farting corpse film) and Turn Down For What. As expected, the result is a chaotic acid trip of visuals you have and haven't seen before in a very stylistic but cheap way. What's not expected is the emotional journey you'll be going on with these characters, learning what it means to be a present partner and parent. There is a scene in this film that entirely consists of 2 literal rocks with googly eyes glued to them, and that has more emotional heft than anything else you'll see at the movies so far this year. This movie can't be explained it must be experienced.